Clint Eastwood is just as much of a legend at 93 than he has been throughout his decades-long career.
The iconic actor and director celebrated his 93rd birthday on Wednesday, May 31st, and fellow Hollywood legend Arnold Schwarzenegger made sure he was feeling the love.
Crediting him as both a mentor and friend, Arnold, who is 18 years younger than Clint, shared a photo of Clint looking fit as ever, ready to take on some ski runs.
"Happy birthday, Clint!" the Terminator star wrote, adding: "You've inspired me, you've mentored me, and you're a wonderful friend." He concluded, aptly, with: "At 93, you prove that heroes don't retire – they reload. You're a legend."
The photo sees them next to each other on a snow-filled mountain, cozied up in puffer jackets and resting both their hands on their ski poles. While Arnold had a black helmet with goggles on it, Clint went old-school, and was pictured with merely a navy blue beanie under his goggles.
Fans were left seriously impressed, both with what a star-studded moment the picture captured, and with Clint's determination to still expertly hit the slopes.
Xem bài viết này trên Instagram
One fan took to the comments section and wrote: "Two men that defined masculinity for me as a kid. Legends!" as others added: "These two could carry an entire conversation consisting of only one-liners. And it'd be awesome," and: "Wow, two legends. Happy birthday!" as well as: "Happy birthday Mr. Eastwood! May you always be blessed and protected. And you too Mr. Schwarzenegger."
Arnold previously shared the same photo of the two back in December of 2019, when the Cry Macho actor would have been some months shy of celebrating his 90th birthday. At the time, he captioned the photo fittingly with: "Name a more iconic duo. I'll wait," and fans couldn't help but agree with the sentiment.
Both of the actors are longtime friends, and back in 2013, Arnold told Reuters that Clint "is a big idol of mine and I always like to learn from him."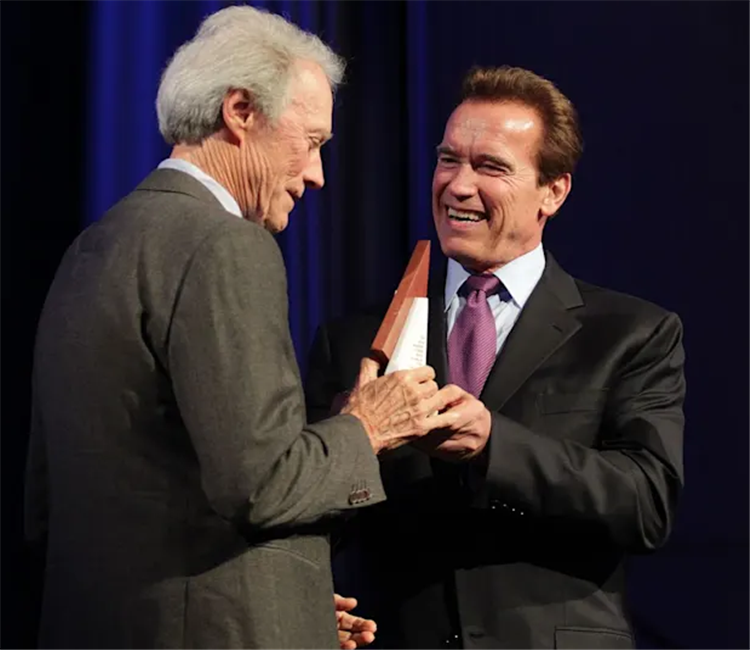 Clint's most recent on-screen appearance was in 2021's Cry Macho, which he both starred in and directed, adding to the long list of over 40 films he's directed, and over 60 that he's starred in. He's not showing signs of stopping any time soon, and it's not only his ski skills proving it. He is next set to direct the upcoming movie Juror #2, which has a star-studded cast including Nicholas Hoult, Toni Collette, Zoey Deutch and Kiefer Sutherland.
Born in 1930 in San Francisco, the legend got his start in the entertainment industry in the early 1960s. He's been married twice, to Maggie Johnson from 1953 to 1984, and to Dina Ruiz from 1996 to 2014, though he has also had significant relationships with Sondra Locke from 1975 until 1989, with Frances Fisher from 1990 to 1995, and since 2015, he has been with Christina Sandera.
Though he has never confirmed how many children he has fathered, he is known to have at least eight children with six different women. Some are Laurie, Kathryn, Kimber Lynn, Kyle, Morgan, Alison, Francesca, and Scott.