Move over, "Jury Duty," there's another twist-filled jury story in town. This time it's "Juror No. 2," the upcoming movie from veteran filmmaker Clint Eastwood. Eastwood is in his 90s now, but age hasn't stopped the prolific actor-turned-filmmaker from working on new stories to bring to the silver screen. Though the ongoing SAG-AFTRA strike means "Juror No. 2" has currently suspended filming, the Eastwood picture is still in the works — and it sounds like it has the potential to be one of the most riveting movies he's made in a while.
When it comes to Eastwood the director, your mileage may vary. The nonagenarian star has certainly made some fantastic projects in his impressive lifetime, from Oscar winners "Unforgiven" and "Million Dollar Baby" to "Mystic River" and "The Bridges of Madison County." His most recent projects, though, including 2021's "Cry Macho" and "Richard Jewell," weren't wholeheartedly embraced by critics and audiences. According to The Hollywood Reporter's sources, Eastwood hopes to make "Juror No. 2" a triumphant last film. Here's everything we know about it so far.
What are the plot details of Juror No. 2?
"Juror No. 2" features a truly gasp-worthy premise. According to the synopsis shared by THR, the movie follows a man named Justin Kemp as he sits in the jury box during a high-profile murder trial. Outlets describe Justin, AKA juror #2, as a "family man." There's a problem, though; somewhere between when Justin gets that ever-annoying summons in the mail and the judge bangs the gavel to usher in the final verdict, Justin realizes that he might have been the one to kill the victim. Wild, right?!
Sources vary when it comes to the certainty of Justin's guilt. THR wrote that he "may have caused the victim's death," while one Deadline post outright said he "slowly realizes he killed the victim in a reckless driving accident." The official logline keeps things even more vague, saying that Justin "finds himself struggling with a serious moral dilemma" that could influence the verdict. It's probably a good thing that we don't know with 100% certainty whether or not Justin really did commit what sounds like a hit-and-run, because that seems like a huge spoiler to share ahead of the film's release. Still, a movie with this type of telenovela-style premise surely has more tricks up its sleeve.
So far, the only other plot details that have been revealed have come via casting details. One key role is that of the protagonist's A.A. sponsor. Could the juror have forgotten his involvement because he was blackout drunk? We're not sure yet, but it would certainly add a "Girl on the Train" style twist to the movie. Deadline also noted that the character will try to save the accused without losing his own liberty along the way.
Who is in the cast of Juror No. 2?
"The Great" and "The Menu" star Nicholas Hoult has already been cast in the role of Justin Kemp. Given the actor's knack for playing characters who are both slimy as hell and endearing against all odds, this seems like a great casting choice. Zoey Deutsch ("Not Okay," "The Politician") is attached to the project in the role of Justin's wife, while Toni Collette, who starred opposite Hoult in "About A Boy" way back in 2002, is on board as the prosecutor.
"24" star Kiefer Sutherland is playing Justin's AA sponsor (per THR), while Leslie Bibb ("Jupiter's Legacy," "Iron Man") has also reportedly joined the cast in an undisclosed role. In late May, the breakout star of Netflix's hit "The Night Agent," Gabriel Basso, was said to be in talks for a role that was later confirmed to be that of the (perhaps wrongfully) accused. Casting for the film was announced just months before writers and actors shut down Hollywood in an attempt to fight studios for better pay and protections, so there may still be more casting announcements yet to come when the film re-enters production.
Who is the director of Juror No. 2?
As previously mentioned, the legendary actor-director Clint Eastwood will be behind the camera for "Juror No. 2." This project marks Eastwood's first time directing both Hoult and Collette, and a return to the courtroom and crime genre he's explored in the past, particularly in films like "Midnight in the Garden of Good and Evil" and "True Crime." The latter similarly involves a potentially wrongfully accused man, only in that 1999 film, Eastwood himself plays a journalist uncovering the truth about a convict who's already on death row.
Eastwood will be making the movie with his longtime home studio Warner Bros. (side note: for a thorny story about Eastwood's apparent one-time sway over at Warner Bros., this NSFW episode of Karina Longworth's "You Must Remember This" about his ex, director Sondra Locke is, well, a must). The filmmaker has worked with the major studio dozens of times by now, and in the past has typically always gotten a theatrical release for his films there. Though release details for the movie aren't yet available, it's a good guess that it will end up in a theater near you.
Who are the writers and producers or Juror No. 2?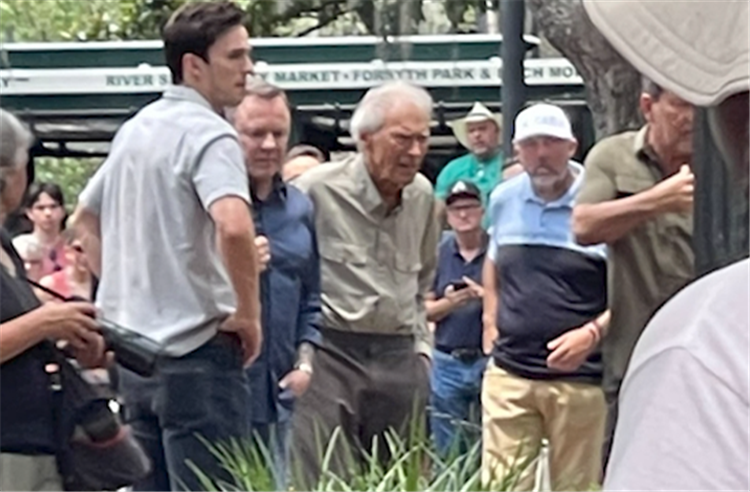 As novel as the story for "Juror No. 2" sounds, THR said that its script has actually been circulating Hollywood for 15 years. Jonathan Abrams, who produced the film "Escape Plan" in 2013, wrote the original script, with the outlet noting that rewrites were done more recently to add in a new supporting character and adjust the ages of the cast. The current iteration of the movie with Eastwood at the helm has reportedly been in casting stages since 2022.
Eastwood himself is producing alongside Matt Skiena ("The LEGO Movie"), Peter Oberth ("Being The Ricardos"), and former Paramount head Adam Goodman, whose credits include "Dune," "Moon Knight," "The Terror," and more. Two EPs behind the upcoming "Percy Jackson and the Olympians" series, Jeremy Bell and Ellen Goldsmith-Vein, are also set to executive produce "Juror No. 2," while frequent Eastwood collaborators Tim Moore and Jessica Meier ("Sully," "American Sniper") are on board to produce as well.
"Juror No. 2" does not yet have a release date.