Sylvester Stallone was supported by his wife, Jennifer Flavin, during the premiere of his documentary, Sly, which took place during the Toronto International Film Festival on Saturday.
The 77-year-old performer and his wife, 55, stayed close to one another while posing for several photos on the red carpet of the star-studded event.
The actor — who recently shadowboxed with Pope Francis during a trip to Italy — was joined by several other individuals, including Don Herzfeld, Rebekah Chaney and his brother Frank during the premiere.
Stallone opted for a navy blue jacket and a matching pair of slim-fitting pants during the event.
The star of the Expendables franchise completed the look with a jet-black shirt and a matching pair of leather shoes.
Flavin opted for a fashionable black lace dress as she accompanied her husband to the event.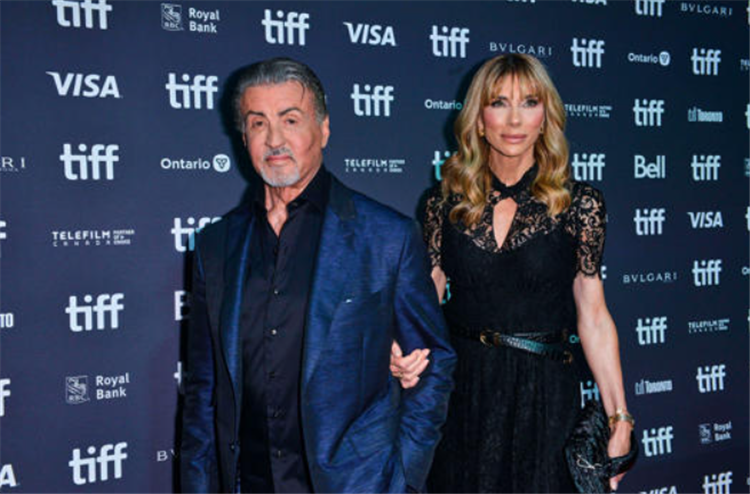 The reality television personality contrasted the dominant tone of her outfit with a pair of silver high-heeled shoes.
The entrepreneur carried a chic clutch with her for the length of the premiere, and she accessorized with various pieces of jewelry.
Her gorgeous blonde hair cascaded onto her shoulders and she opted for a soft glam makeup look that complimented her natural beauty.
Stallone's brother Frank looked cool in a checkered jacket which was worn on top of a black button-up shirt.
The Far From Over singer completed his look for the evening with slim-fitting jeans, brown shoes and wide-framed glasses.
Herzfeld opted for an all-black outfit that was comprised of a three-piece suit, shirt and tie as he spent time at the premiere.
Chaney donned a flowing green dress that paired well with her bright red hair while she posed for several photos.
Christian Thompson remained shirtless underneath a jet-black jacket, which was paired with flared-out trousers.
Sasha Exeter showed off her toned arms while wearing a sleeveless dark gray top and a matching bottom during her time on the red carpet.
Television broadcaster Tyrone Edwards was also pictured while jokingly uppercutting the star of the Rocky franchise.
It was announced that Sly would be premiering during the Toronto International Film Festival this past June.
The documentary looks back on the life of the performer and chronicles his navigation of career highs and personal lows.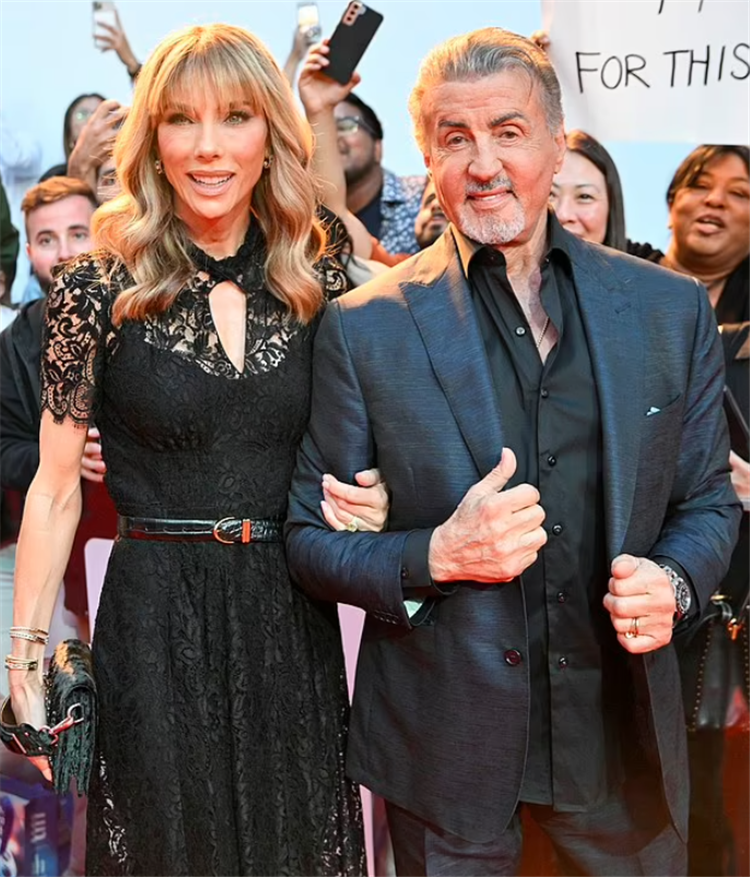 The feature's director, Thom Zimny, recently spoke to USA Today and expressed that he was able to uncover aspects of Stallone's personality that had previously been withheld from the public while working on the movie.
'I've loved all (Stallone's) films since childhood, but I started to realize in the making of this that I was getting a side of a man that just had not been seen before,' he said.
The filmmaker went on to speak about the actor as an individual and discussed how he saw the performer as an inspirational figure.
He described the Rambo star as 'a guy who refused to back down or be told he couldn't do it. It's a very inspiring story on many levels.'
The filmmaker added: 'It's a theme that you find again and again throughout his life, that journey of pushing himself.'
Zimny concluded by stating that, although Stallone likely viewed the film's production process as a whole to be particularly reflective, he was not planning on stepping back from his career anytime soon.
'I don't see him as settling, and this film was catching up with him for a minute to reflect, if anything,' he stated.