In 2023, he appeared with his wife, Jennifer Flavin, and their daughters Sophia, Sistine and Scarlet in the docuseries The Family Stallone. His brother, Frank Stallone Jr., is also an accomplished actor and musician; their sister Toni Ann D'Alto was an actor; and even their mother, Jackie Stallone, had a star turn of her own.
Sylvester, born on July 6, 1946, and Frank Jr., born on July 30, 1950, are the sons of Frank Stallone Sr. and Jackie Stallone. Sylvester and Frank's parents divorced in 1957. Two years later, Jackie married Anthony Filiti, and they welcomed a daughter, Toni Ann D'Alto (née Filiti) in 1964.
With his second wife, Rose Marie, Frank Sr. had a son, Bryan, and a daughter, Carla Francesca — though they have largely stayed out of the spotlight. Frank Sr. and his fourth wife, Kathleen Rhodes, had a son, Dante Alexander Stallone, born on Jan. 17, 1997.
Here's what to know about Sylvester Stallone's five siblings: Frank Jr., Toni Ann, Bryan, Carla and Dante.
Sylvester and Frank Jr. have appeared in films together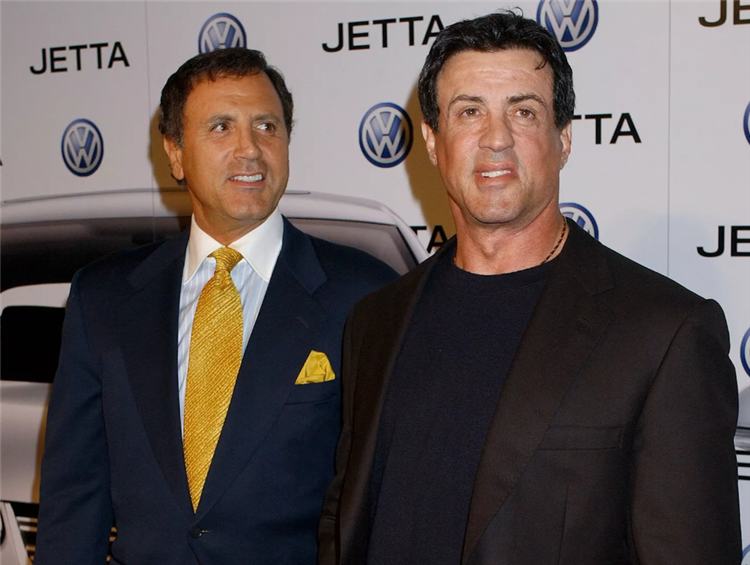 Sylvester's breakout film Rocky, which he both wrote and starred in, also featured brother Frank Jr. as a street singer. Rocky won the Oscar for Best Picture in 1977. It was the first time that Sylvester and his younger brother would appear on screen together, but it wouldn't be the last. They've been in a total of nine films together, including Rocky II (1979), Rocky III (1982) and Rocky Balboa (2006), as well as Staying Alive (1983) and Get Carter (2000).
Most recently, they appeared in Stallone: Frank, That Is (2021), a documentary about Frank Jr. and his long movie and music career. "I believe this is my journey," Frank told Fox News. "This is what I'm meant to do. I've always enjoyed it. It was always easy for me. It's where I feel the most comfortable, being on stage. There's no turning back for me."
Frank Jr. is an accomplished musician
In addition to appearing in nearly 80 films, Frank has released multiple solo albums, several of which have been certified gold and platinum. He's also composed film soundtracks, including that of Staying Alive, the sequel to Saturday Night Fever (1977), which Sylvester directed. His first big break in movie soundtracks, though, was Rocky.
"I was in a group called Valentine and … we had pretty successful gigs in Jersey," Frank told Fox News. "My brother then calls me and goes, 'I'm making a boxing movie. Wanna write music for it?' I said, 'Well, that's not really my expertise, writing music for a boxing movie.' But I said alright. Then he goes, 'I want you to recreate something that you used to do when you were a kid singing on the street corner doing doo-wop.' "
Frank added: "It turned out to be the last time the Stallone name was unknown. From there, it just blew up."
Sylvester publicly supported Dante after he was attacked in 2016
In 2016, when Dante was 19 and a student at Florida State University, he was brutally attacked. Two men broke his jaw, split his palate and knocked out several of his teeth. He required corrective surgery.
While Dante was recovering, Sylvester released a statement about the attack. "This is a wonderful young man, a straight-A student who would not cause any trouble," he said. "It's just so tragic and terribly sad."
Toni Ann died of lung cancer at 48 years old
In 2012, at just 48 years old, Toni Ann died of lung cancer that had spread to her brain. She was living with her mother in her Santa Monica, California, at the time.
"She's too young to go, but she wasn't feeling any pain," Jackie told the New York Daily News. "What a terrible month. First Sage and now Toni. It's hard. At least they're together now in heaven."
In July 2012, Sylvester's son Sage Stallone died from a heart condition. "He said he can't take any more pain," Jackie told the Daily News of breaking the news to Sylvester. "He said he'll always be there for her son."
Frank Jr. still performs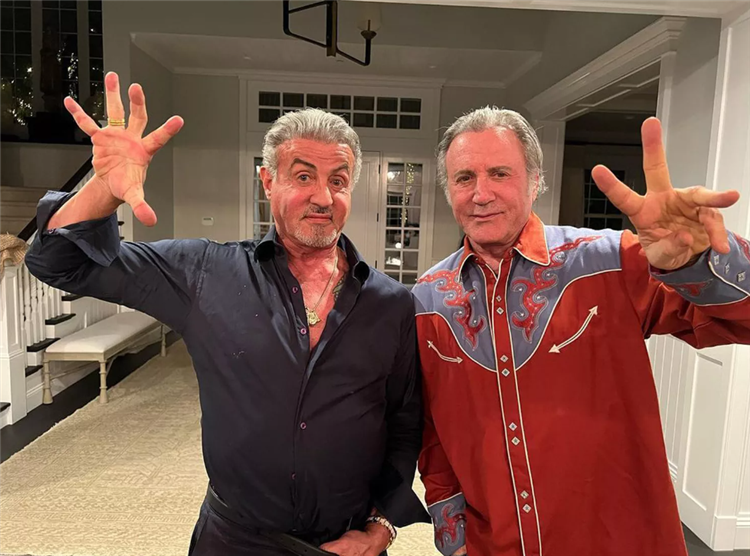 In 2022, Frank performed in Atlantic City, New Jersey, and his brother Sylvester was there to show his support. Before Frank came on stage, the Rocky actor introduced him. "Hey, I'm here on a mission," Sly told the crowd. "I'm here to deliver the message. Okay? Now, I've been very, very lucky in my life, but my brother, who really has more talent than me, is about to lay it all on you, you know, so I'm the messenger of good news. I want you all to give it up for Frank the tank, my incredible brother."
Frank Jr. supported Sylvester during his marriage troubles
In 2022, Sylvester's wife, Jennifer Flavin, filed for divorce after 25 years of marriage. The two reconciled just one month later, but it was understandably a difficult time for the family. In August, Frank made a public show of support for his brother, posting a throwback photo of them as kids on Instagram. "Brothers till the end! Enough said," Frank wrote.
Sylvester and Frank Jr. have a standing lunch date
Frank frequently posts photos of the brothers having lunch at Mulberry Street Pizzeria, with a rotating guest list that has included the likes of Al Pacino. In July, Frank posted a photo with Sylvester, Jon Lovitz and Henry Winkler on Instagram, writing, "What a great lunch with Henry Winkler, Sly, Jon Lovitz and your truly."