There's a reason why audiences' most-beloved ranch hand on Taylor Sheridan's "Yellowstone" — the wise, rugged, and heartwarming Lloyd Pierce — imbues his scenes with such an air of realism. As it turns out, the actor behind the long-time Dutton employee, Forrie J. Smith, is a real-life cowboy with decades of experience under his large-buckled belt. As Rodeo News reports, the Helena, Montana-born actor found his calling at the age of six, when he fell off a horse and told his mother and step-father that he would be a stunt man. Smith, who grew up on his grandparents' ranch outside the Montana capital and competed in the Rodeo circuit, did indeed make his way to Hollywood as just that — a horse and stunt man.
Referring to his experience in the circuit, Smith told the outlet, "I've been on 17 horses in one day and 11 head of bulls in one day. Everything good in my life was because of rodeo." That experience served him well as both a stunt man and an actor, and throughout his decades-long career in show business, Smith has been back in the saddle more times than one could count. This, perhaps, is why the charismatic and occasionally mysterious Lloyd Pierce looks so familiar to viewers. Beginning in the late 1980s, the actor found himself starring in several television movies, TV series, and films, and in each one managed to prove that, as a performer, he was no one-trick pony.
Forrie J. Smith broke out of the gate in 1993's Tombstone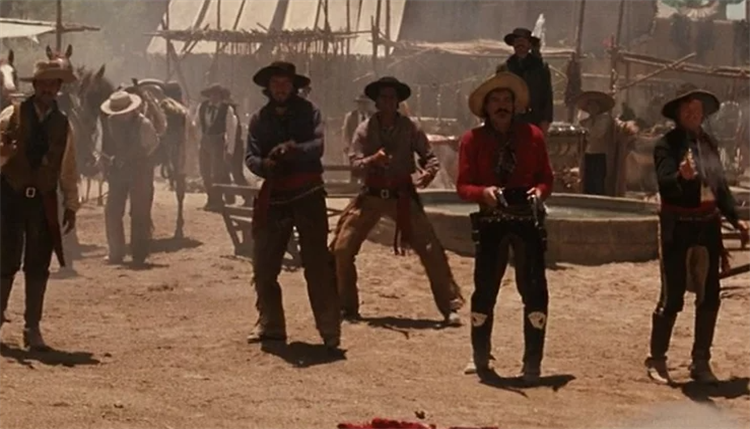 By 1993, Forrie J. Smith had several off-screen and minor roles under his belt (including playing a sidekick in the 1987 television special, "Desperado"). He was mostly known for his work as a stuntman in "Rambo III" when he took on the role of Pony Deal in writer Kevin Jarre's "Tombstone."
The semi-historical Western was littered with a veritable encyclopedia of soon-to-be stars, including Thomas Haden Church ("Spider-Man 3"), Michael Rooker ("The Walking Dead"), John Corbett ("My Big Fat Greek Wedding"), and Billy Zane ("Titanic"). The film told the story of gunslingers and occasional lawmen Wyatt Earp and Doc Holliday's involvement in the infamous 1881 shoot-out at the O.K. Corral in Tombstone, Arizona (via History). It tasked superstars Val Kilmer (Holliday) and Kurt Russel (Wyatt Earp) with bringing the historical figures to life. Bill Paxton and cowboy archetype Sam Elliott topped off the all-star cast as Morgan and Virgil Earp, respectively. While it didn't earn Kilmer the Oscar nod many fans felt he deserved (via Outsider), it remains a classic of the genre despite being made decades after the Western craze first hit Hollywood.
Though Smith's role in the film was as a non-speaking ensemble member of the criminal Clanton Gang (of cowboys, led mainly by Michael Biehn's memorable meanie Johnny Ringo), the film's success helped the experienced stunt man showcase his stage skills.
Forrie J. Smith showed-off his acting skills in Perdita Durango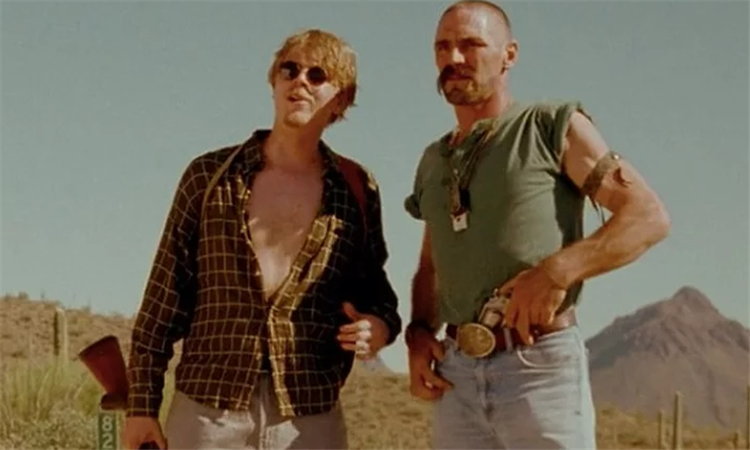 Four years after his role as a rambunctious cowboy in "Tombstone," Forrie J. Smith starred alongside Javier Bardem, Rosie Perez, and James Gandolfini in director Álex de la Iglesia's critically acclaimed dark comedy, "Perdita Durango." Strutting onto the scene with his gun (and guns) flexed, Smith's Armendariz attempts to negotiate with fellow criminal Romeo Dolorosa (Bardem) before being killed in a shoot-out with DEA Agent Dumas (Gandolfini).
Although the scene is relatively short, it allowed Smith to fully embrace and embody a character with some semblance of a backstory. The film's cult status helped the already prolific and in-demand "additional crew" cowboy flex his acting chops. The year prior, Smith had starred in a short scene in the made-for-TV movie, "Ruby Jean and Joe," wherein he delivered a few drunken lines at a birthday party before getting punched in the face by Tom Selleck. Still, it was hardly as big an on-screen moment for the actor as his shoot-out in Perdita Durango.
Smith anchored a pivotal scene in Transamerica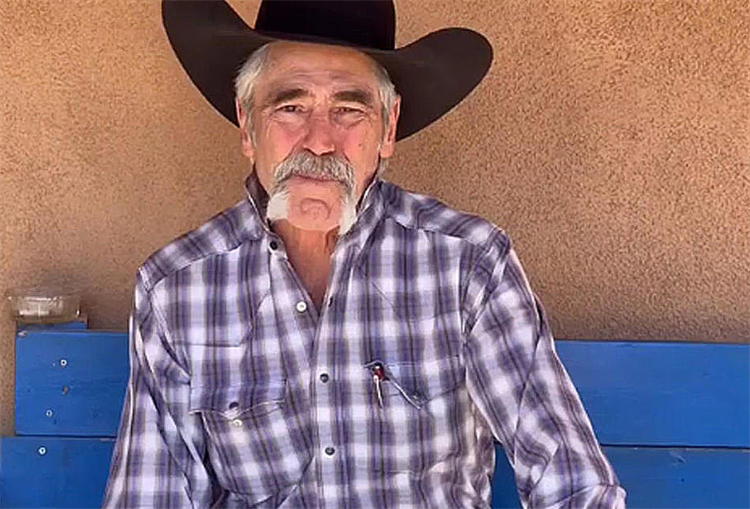 Though Forrie J. Smith's screen time in Duncan Tucker's Oscar-nominated "Transamerica" was short, his dialogue in the scene acts as a catalyst for a critical moment for the film's protagonists. In the movie, a religious, conservative woman named Bree (Felicity Huffman), who is saving up for sex reassignment surgery, is compelled by her therapist to track down the son she unknowingly fathered while still in college.
Bree heads to New York to track down said son (Toby, played by Kevin Zegers), but since she is unable to explain the true nature of her relationship to her street-hustler son teen, she pretends to be a Christian case-worker who "specializes in converting sex workers to Jesus" (via Roger Ebert). The two embark on a cross-country journey back to L.A. and, along the way, stop at a roadside market in Arizona called Sammy's Wigwam.
Smith plays Sammy, who (rightly, unbeknownst to Toby) assumes the angsty teen is the woman's child, and when Toby swears at Bree, Smith's character chastises him. "You watch your mouth around your mother," Smith says, and Toby — who's only recently discovered that Bree is trans (but still doesn't know that she fathered him in her former life as "Stanley") — explodes. "She is not my mother," he fires back, "she's not anyone's mother, she's not even a real woman, she's got a d**k."
It's an important moment in developing the characters' relationship and vindicates Bree's fears (and her motivations for lying to Toby) while illustrating that the two very much already come off as a parent and child. It also kicks off a meaningful exchange between the two, wherein Bree's character defends her religious beliefs by saying that while her "body may be a work in progress," there is "nothing wrong with (her) soul." Smith's success following his role in "Transamerica" is further proof that sometimes it's more about quality and import than quantity when it comes to screen-time.
Forrie Smith guest-starred in Better Call Saul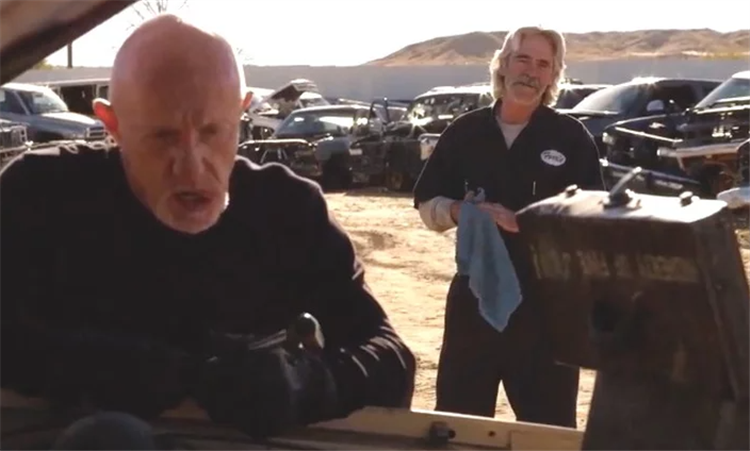 By 2017, Forrie J. Smith had established himself as the man to call when casting directors were looking for a real-life wrangler and horseman who also knew how to deliver a line. In 2013, he provided his animal wrangler skills to the crew of Baltasar Kormákur's "2 Guns," starring Denzel Washington and Mark Wahlberg. In 2016, he worked with future "Yellowstone" creator Taylor Sheridan as an animal wrangler on the Oscar-nominated "Hell or High Water," starring Chris Pine. While one would be hard-pressed to recognize Smith in either film, he was able to use that experience to land visible roles in various television series, including the "Breaking Bad" spin-off, "Better Call Saul."
In the Season 3 premiere of the series, titled "Mabel," Smith stars as the junkyard owner of Five J's Auto Salvage, who helps private investigator Michael Ehrmantraut (Jonathan Banks) with an important gas cap question and calls him a cab. Fans of "Yellowstone" will recognize Smith's quiet drawl in character, who struggles to pronounce the name "Ehrmantraut" in his conversation with the cab company. But in the same year Smith debuted as the retired Rodeo star and wise old ranch hand Lloyd Pierce, he added one more television series to his list of credits.
Forrie J. Smith died a hard death in Midnight, Texas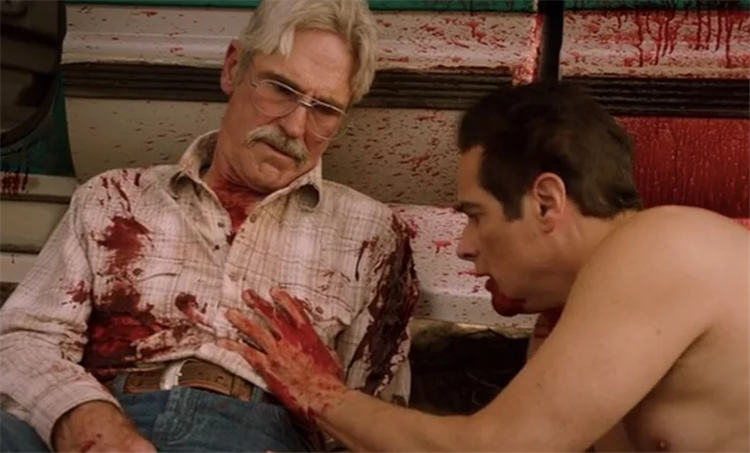 In 2018, Forrie J. Smith lent his characteristic Western aesthetic to NBC's "Midnight, Texas" (based on the trilogy from "True Blood" writer Charlaine Harris). The town of Midnight is a safe place for outsiders, who fit the category mainly based on their supernatural characteristics. "From vampires and witches to psychics and hit men," the series' synopsis reads, "Midnight is a mysterious safe haven for those who are different" (via Den of Geek). Among that cast of outsiders is former "weretiger" (like a werewolf, but…not) the now-cured Reverend Emilio Sheehan (or "Rev") played by Yul Vazquez. In an episode entitled "To Witch Hell and Back," viewers learn the origin of Sheehan's identity and watch as he struggles to come to terms with his past.
As it turns out, the real Reverend Emilio Sheehan — a priest and cowboy played by, you guessed it, Smith — was killed by the transformed weretiger years ago, after he ended up with a flat tire in the middle of the night. When the pre-cured weretiger transformed into his human self again, he took on the priest's identity, wracked with guilt and determined to atone. Smith met with a messy end in the episode, yet it almost pales compared to some of the violence his character has seen while working for the Duttons in "Yellowstone."
Although Smith's riding, wrangling, and ranching skills come from his life-long experience as a genuine cowboy — and frequently present themselves in the form of his work as both a stunt man and additional crew — it's clear from his compelling portrayal of Lloyd that he has little trouble calling on those skills to enhance his on-screen performances as much as his off-screen portfolio.