Sasha Gilmore Corbin spilled the tea on her feelings for Cody.
The General Hospital recap for Wednesday, November 15, 2023, features Sasha finally saying out loud what she feels in her heart for Cody.
General Hospital Recap Highlights
Also in this episode, TJ received gut-wrenching news and Cyrus issued a stern warning to Austin. Now, let's dig a little deeper into the details.
One Small Problem
The ladies of Deception flocked to House & Heart for another TV-selling session with Haven (Morgan Fairchild). But, before they allowed Sasha (Sofia Mattsson) on set, they warned Haven to behave herself. Scotty even threatened a lawsuit should she bring up Sasha's past.
There was one more stipulation for the segment, though. Maxie (Kirsten Storms) surprised everyone by calling up Cody (Josh Kelly) and putting him onscreen with Sasha as the male face of Deception. Haven balked at first but had no choice.
Thankfully, all went well. Swimmingly so. The Deceptor sold out faster than any product ever and Haven admitted defeat. She even told Lucy (Lynn Herring) that she'd be happy to have them back.
Unfortunately, there was one big hiccup for a return. And, that was Sasha herself. She told Maxie she couldn't work with Cody anymore. Not now that she has feelings for him! Little did the ladies know, Cody overheard her confession and smiled.
A Devastating Loss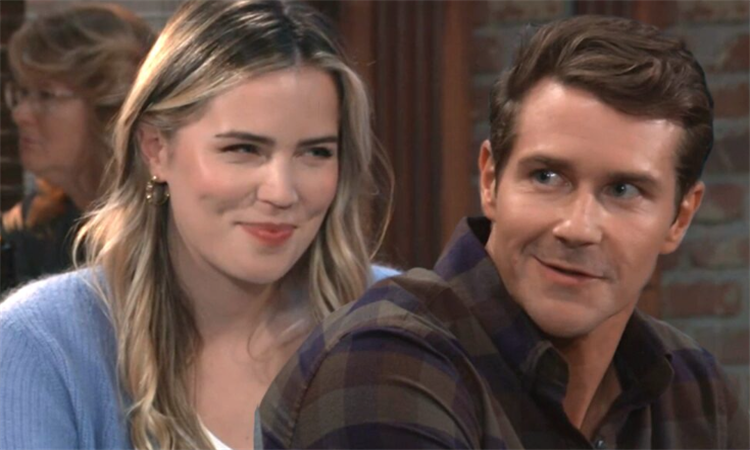 It was a heartbreaking day for TJ (Tajh Bellows). Andrea (Lily Ann Harrison) dropped by and delivered the very sad news that she lost the baby. She confirmed the miscarriage at Mercy Hospital. Even worse, she simply could not put herself through another pregnancy. More upsetting, she didn't want to be the one to tell Molly.
TJ cried on Portia's (Brook Kerr) shoulder. He was devastated by the loss and even more sad to be the one to break his wife's heart. Portia tried to offer encouragement and love, but what can one really say in situations like this?
Portia went home to Curtis (Donnell Turner) and caught him just after an inspiring visit with Marshall (Robert Gossett). She was emotional and spoke about how thankful she was for their daughter. Apparently, TJ's loss put a lot into perspective for her.
Blissfully unaware, Molly (Kristen Vaganos) was at The Metro Court discussing her future plans with Kristina (Kate Mansi). She shocked her big sis by stating she was even willing to give up her career for motherhood. The gals left their luncheon on an upbeat note.
Molly went back to her office to pour over work. She happily took a call from TJ and explained she'd be working late. However, TJ told her they needed to talk…right now.
Back at the restaurant, Alexis (Nancy Lee Grahn) had a (non-alcoholic) drink with Diane (Carolyn Hennesy) (who did have alcohol). Diane opened up about her budding romance with Robert (Tristan Rogers). She likes him, but boy, does he have a lot of other women he concentrates on. Can she deal with divided attention?
Listen Up, Doc
In the third-floor stairwell, Austin (Roger Howarth) was confronted by Cyrus (Jeff Kober). The baddie was pleased to tell the doctor that Mason (Nathanyael Gray) would keep both their names out of the Ava (Maura West) kidnapping mess…but for a price, of course.
The men went back and forth about what went down, all the blackmail, and their shared shady past. In the end, Cyrus reminded Austin he was the one who footed the bill for basically all the good things in his life. He demanded gratitude, respect, and obedience…or else!